With the 2017 season behind us we're already deep in planning mode for next year.
The biggest change is our brand new 1-on-1 for 2 coaching weeks. Not just more masterclasses, these are specifically for amateur pianists who have to juggle career and family with practise time.  You get the same 24/7 royal treatment as on a 1-on-1 … but together with a pianist colleague.  Thanks to student Claire for a brilliant suggestion.
A nice postcard from a 1-on-1 student earlier this year.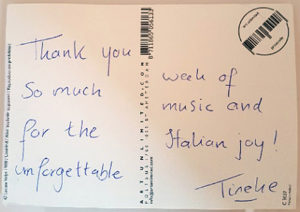 Also, look out for articles on Music Holiday Italy coming soon in these magazines:
Classical Music Magazine (March 2018)
Music Teacher Magazine (March 2018)